Annual UFI European Conference to be held from 11-13 June in Zurich, Switzerland and hosted by MCH Group's Messe Zürich
Conference to be co-located with the Event Directors Summit – one-day event for 50 exhibition & portfolio directors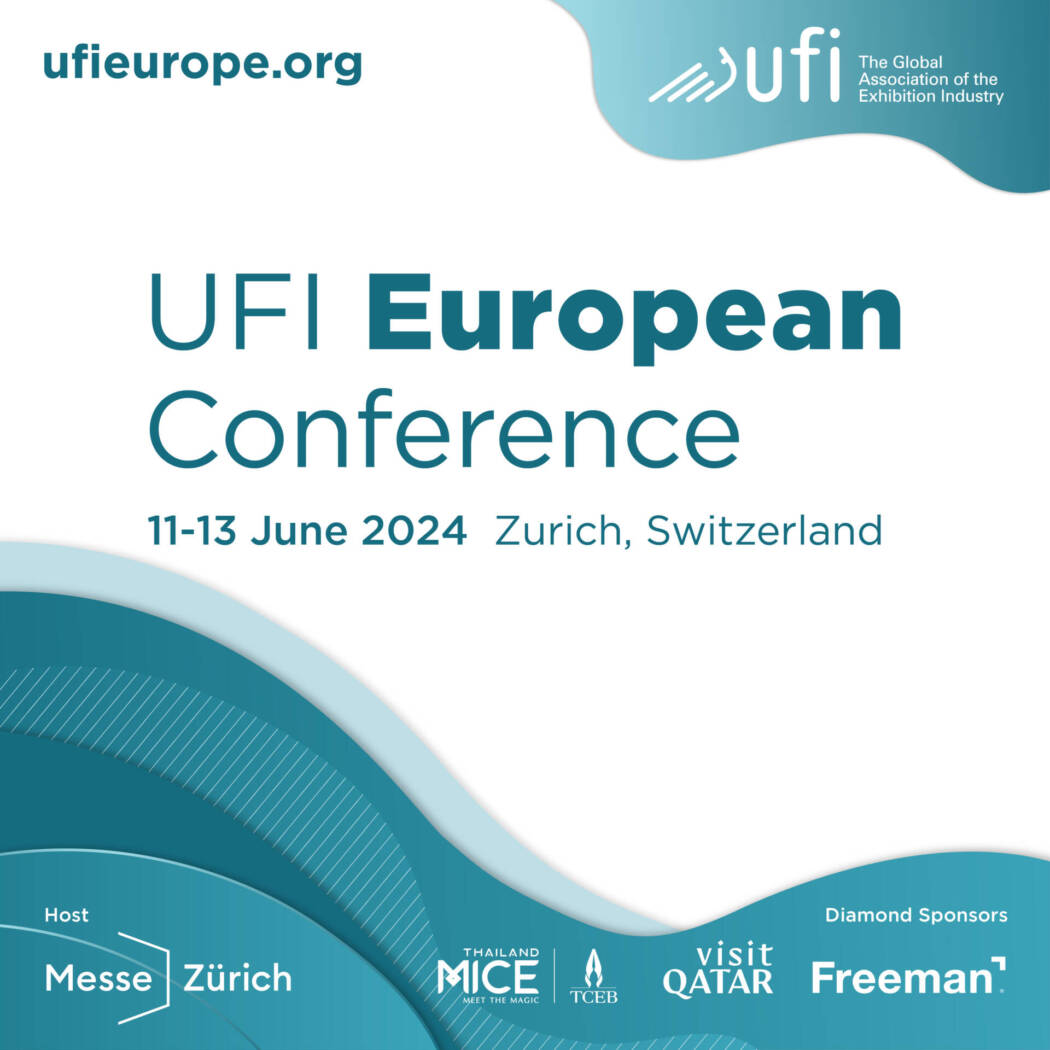 Paris / Zurich – 12 October 2023: UFI, The Global Association of the Exhibition Industry, will hold its next European Conference in Zurich, Switzerland from 11-13 June 2024. Open to all exhibition industry professionals, the conference is the most important annual gathering of exhibition industry leaders in the region.
Connected to the main event, Zurich will also host the 2nd edition of the Event Directors Summit – a "by invitation only event" for 50 exhibition and portfolio directors, launched at the 2023 European Conference.
The UFI events will be hosted by MCH Group and they will take place at Messe Zürich, located in the vibrant Oerlikon district, just a few minutes away from the city centre and the international airport. Zurich boasts excellent connectivity and transport links, making it a very convenient destination for all conference delegates.
"We are delighted to welcome UFI to Zürich next year. The European Conference brings together a very important community and it will be a pleasure to host them here at the Messe Zürich and show them around our beautiful city. We are also excited to welcome the Event Directors Summit – this event is an important addition and of course, this select group is very attractive to us as a leading host for guest events in Switzerland with our venues in Basel and Zurich. We look forward to seeing you all here in June next year," adds Roman Imgrüth, CEO MCH Exhibition & Events.
"We are thrilled to take the European Conference to Zurich in 2024. We look forward to welcoming industry professionals from Europe and beyond to meet here for networking, learning and sharing our experiences. It is an exciting time right now and we will have a lot to talk about," says Nick Dugdale-Moore, UFI Regional Director Europe.
Pre-registration for the conference is already open and can be done here: www.ufieurope.org.
As the Global Association of the Exhibition Industry, UFI regularly organises regional conferences in Latin America, Asia-Pacific, Europe, and the Middle East & Africa, as well as the annual UFI Global Congress. The next event will be the UFI Global Congress, which will take place in Las Vegas, USA, from 1-4 November.
---
MCH Group
MCH Group has its headquarters in Basel and is an internationally operating experience marketing company with a comprehensive service network and an international range of experience marketing solutions. The Exhibitions & Events division organises around 170 guest events every year as well as 25 of its own events and trade fairs in Switzerland, among them leading live marketing platforms such as Swissbau, Igeho, and Giardina. With Messe Basel, the Congress Center Basel, and Messe Zürich, MCH also operates Switzerland's largest multifunctional event infrastructures in terms of surface area. The company employs more than 800 people, around half of them in Switzerland and the USA.  
For more information, please visit: www.mch-group.com
Downloads