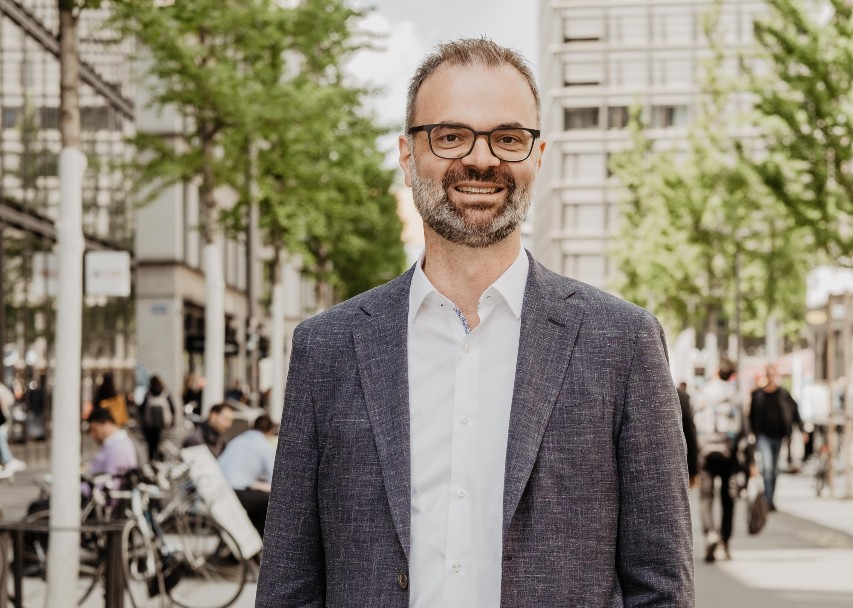 When people think of tourism marketing around here, it is frequently pictures of mountains and nature that spring to mind. It is all too often forgotten that a large portion of the overnight stays are attributable to business and congress tourism. But how is this kind of tourism faring in the aftermath of the pandemic? We asked someone who ought to know – Thomas Wüthrich, director of Zurich Tourism.
Thomas Wüthrich, you have only recently been appointed director of your organisation. What is your impression, how is tourism faring in your city at the moment?
Thomas Wüthrich: Much better than during the acute phase of the pandemic. Not only the city but the region as a whole is benefiting from the pent-up demand for travel. This is the case for both leisure and business tourism, which account for more or less equal shares here. While we are still missing our guests from China and it remains to be seen what impact inflation and the strong franc will have, a large number of business guests have already come back, our hotels are reporting good bookings and the figures from the overseas markets are similarly gratifying. For guests from Switzerland, strong growth of 100% is being recorded for the Zurich subregion. And there are also high growth rates from markets such as Germany, the UK, North America, South East Asia and the Gulf States.
Have you experienced any difference in the pattern of enquiries received for business tourism and congresses since the outbreak of the corona pandemic?
Thomas Wüthrich: We are working on the assumption that, while individually travelling business tourists will indeed be coming back to Zurich in greater numbers again, the figure will perhaps not reach the same level as before the pandemic because a large number of meetings are still being held online. On the other hand, we think that organised business trips and large-scale meetings and conferences will take on greater importance, since people are not only able to acquire information there but can also engage in personal discussions and networking.
During the acute phase of the corona pandemic, business tourism and congresses suffered a disproportionately high level of cancellations and revenue losses. Do you think it will be possible to return to the 2019 level and, if so, when?
Thomas Wüthrich: That is difficult to predict. As I've already said, people will probably undertake fewer business trips but these will tend to be longer and take in more. It is thus quite feasible that business and leisure tourism will become even more closely entwined in future. More specifically, this could perhaps lead to business travellers extending their stay by one or two days to explore our city as "normal" tourists.
What are you as a tourism organisation doing to achieve this goal?
Thomas Wüthrich: At the moment, we're busy updating our strategy. One major aspect will certainly involve placing greater focus on business tourism than has been the case to date. Zurich is and will remain a key location for large-scale trade fairs and congresses and we want to devote even more attention to this in future – in terms of both our marketing activities and our human resources.
How does the destination need to develop in order to remain attractive for business tourism and the congress business?
Thomas Wüthrich: We have to make sure that our offerings remain versatile and of a high quality One important mainstay here is doubtless the topic of sustainability – most importantly in ecological terms but also from a social and economic point of view. We have to move with the times here and fulfil our customers' expectations. Also, while we already have facilities for larger-scale congresses, we nonetheless need to expand our event infrastructure still further so as to ensure that we remain competitive with Basel, Geneva and other cities in Europe for XL events too.
That means you also see Zurich as a destination for XL events at international level?
Thomas Wüthrich: Certainly. Zurich has everything that is needed to host major international events. Not only do we have one of Europe's best airports – ten minutes by train from the city centre – we also have top-quality hotel infrastructure. Our congress infrastructure is also impressive. With ACE Zurich, the joint project launched by the Hallenstadion, Messe Zurich and Zurich Tourism, we are finally on the map for bigger events. Despite this, we still feel that Zurich is in urgent need of a new congress centre.
If you had to describe your city to someone who had never been there what would you say?
Thomas Wüthrich: Zurich gives you a feeling of being on holiday – it's as simple as that. Or to express it differently, in Zurich you will find everything your heart desires all within easy reach – outstanding culture, a tremendous variety of gastronomic offerings and top-quality accommodation. And you can be in the very heart of nature in just few minutes.